If you've ever experienced a leaky diaper, you know how frustrating and embarrassing that can be. Your clothes get wet, your bed sheets become stained, and your laundry just piles up.
A great way to prevent leaky diapers (besides wearing the right size and type) is to use a booster pad. Diaper booster pads are designed to be worn inside disposable undergarments, such as an adult brief or pull up, to provide extra absorbency. Booster pads can also be used with washable pants.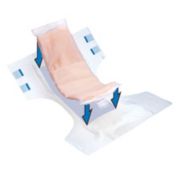 As soon as the booster pad fills up, any excess urine will flow through the pad's porous backing onto the absorbent undergarment you're already wearing. This is more effective than using regular incontinence pads, which have a leakproof backing.
With the added absorbency, you'll be able to sit through long flights, car trips, or meetings without having to change your briefs as often. Booster pads are also great for nighttime incontinence, helping you to stay dry and sleep soundly through the night.
Our most popular booster pad is from Tranquility. Available in four absorbency levels, Tranquility Booster Pads have a Peach Mat core designed to keep skin dry and free of rashes and eliminate urine odors. They come with an adhesive strip, so they're easy to use and dispose. The Mini pad adds 5.7 oz. of absorbency to the host undergarment, while the Super Plus Contour pad adds over 3 cups of absorbency!
Absorbency is always a concern when it comes to incontinence protection. Booster pads may be the solution you're looking for, why not give them a try?
Related posts: